Over the years of maintaining and owning DB7s, I've built up a knowledge and catalogue of original parts at OEM prices, and re-manufactured parts where they are no longer available from AML (Aston Martin Lagonda) or their original suppliers (e.g. Ford, Jaguar, Mazda, etc.)  Here are some of the regularly asked for:
Prices below now include VAT.
(Latest First)
NEW BOOT/TRUNK FLOOR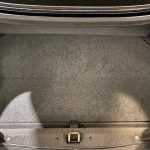 £396 each inc VAT
New remanufactured item, to fit ALL DB7s EXCEPT the first 555 Vantages as they had a skinney, inflated spare wheel, which stopped the boot being flat!

REPEATER TELL-TALES – INDICATOR/HAZARD WARNING

Can't see/hear your turn-indicators flashing – a common problem. Here's an easy fix: a replacement relay with an additional interior warning light/led, plus a louder 'buzzer'.  The indicator led can be positioned at the top or bottom of the instrument binnacle (whichever is in your sight-line).  Similarly the buzzer can be positioned closer to the driver on a volante (to overcome wind noise).
Fitted, or a 30min DIY job with full instructions.
Available for pre-airbag i6 and later models.
i6: £96 on relay exchange basis, later models:£80.
PIVOT CLIP FOR KNEE BOLSTER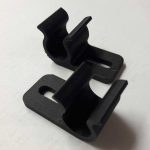 £14 each
These are re-manufactured and clip the leather bolster (the one by the driver's knees) to the metal struts.
HANDBRAKE CABLE

£92
For all bar first 89 cars! [AML 30.83218, Jaguar MHF5150BA] complete with sleeve  and grommet.
I also have stock of the two outer handbrake cables – just ask.
KEYS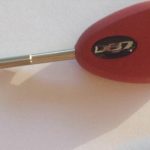 £48 each
Genuine original 'programmable' key blanks for DB7, not required for pre air bag but essential on all after that! 
V12 STARTER BUTTONS

£105 repair only
Later type 091855 – No stock unfortunately, but your unit will have a quicker repair turnaround here than with AML!
BRAKE MASTER CYLINDER – PRE -AIR BAG

p.o.a.
In stock [AML 33.81741], rebuilt units, including ABS actuation parts, but not the fluid reservoir on top. Service exchange only and does include VAT. I don't think you will find these anywhere else…….."
i6 SUPERCHARGERS

£3150 Exchange
Rebuilt units with new bearings and re Teflon coated rotors in stock, but exchange only. Remember – price include VAT. [32.84452, 08.80823] suitable for pre or airbag i6 DB7s..
CAM COVER – PRE-AIRBAG

£395

Pre airbag cam cover, brand new BUT WITHOUT internal baffle or stub for breather pipe, these would have to be transferred from old cover. AML have no stock and no plans to get. This one, £395.
PRE AIR-BAG EXHAUST PIPES AND SILENCERS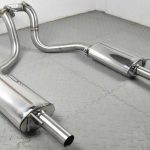 £660 plus carriage.
Pre air bag overaxle pipes and rear silencers/mufflers, to original pattern in high quality Stainless Steel and will fit the original tail trims if still serviceable, otherwise new chrome tips can be provided at £35 each.
PRE AIR-BAG 'STRAIGHT THROUGH' EXHAUST PIPES

£490 plus carriage.
Pre air bag overaxle pipes with straight through rear pipes, just a VERY slight increase in sound level but NOT loud! Same applies with tail trims as with the mufflers above.
BONNET GAS STRUTS

£34 each

Now from Stabilis, the original supplier.
BOOT/TRUNK GAS STRUTS

£30 each

Does your boot lid only just stay open?… or not?
VANTAGE REAR BUMPER SUPP
ORTS
£39 each

Custom made from stainless steel, will not rust away like originals. Available left and right hand.
WINDOW REGULATORS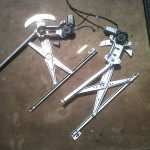 £180 each
Brand new, not refurbished, will fit directly to pre-airbag car RHS, so no need to update the ECU. Can adapt for LHS and to later cars using your original motor (providing that the motor is ok/serviceable) and at no extra charge.
STAINLESS STEEL GOODRIDGE BRAKE HOSES

Brake hoses for DB7 Vantage

Front pair – £75
Rear pair  – £65
.
DOOR MIRROR POST-SLEEVE/TRIM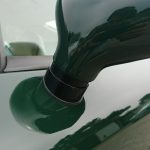 £22

Available for all 6 cylinder DB7s. Shiny black finish so does not go white with car polish. Very good fit, far more robust than the originals.
TONNEAU SIDE SECURING BLADES FOR ALL DB7 & VOLANTES
£20 each.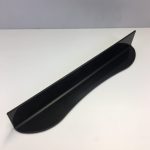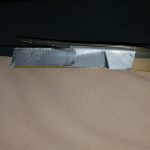 As per pic, the originals break with age! The back two are different and seem to be fit for purpose, so have had the side blades made of a tougher plastic yet certainly no thicker than the originals.
New are black and need to be riveted in place of originals by a good DIYer, or a trim shop.
FRONT SUSPENSION BUMP STOP SPACERS FOR ALL DB7s  (except GTs which are thinner).

£28 each

New alloy ones now available from AML at £163! The black ABS replacements shown are as tough and light as the originals and will not corrode.  Because the original alloy spacers are in a water and steel environment they are crumbling fast! The Bump Stops themselves [ 23.83416  ] bolt THROUGH the spacer. Given the corrosion mentioned above, if the spacer has not fallen apart, there will definitely be little chance of the old bump stop bolts being able to be removed from the old spacer.
INTERCOOLER RADIATORS

£660

Intercooler radiator for 6cyl DB7s. [ 32.81569 or 32.84128 ]
INTERCOOLER CHARGE AIR COOLER REBUILDS AVAILABLE

£1000 exchanged for your old unit

These units are not available from AML and indeed the division of IMI Marston who originally built the intercoolers no longer exists, but we have access to their jig. The one shown is a good unit from an airbag i6 and is available for sale on an exchange basis for £800. Exchanged units will then have the internal radiator replaced with a new matrix and will be available for £1000.
ANTI-TRAMP FRAME FOR ALL DB7 VANTAGES 

Price £750 – less than 1/2 of AML's mild steel price!

Have been out of stock for some time [ 26.122053AD ], so have now moved to re-fabrication of them in Stainless Steel… no need to paint, powder coat or underseal! These are a work of art, shame they are underneath the car!
FRONT NUMBER PLATE PLINTH AND SEAL STRIP

£86 

Fits ALL DB7s. Better made, of heavier gauge ABS, yet cheaper than AML [ 78.82545 ].
A/C COMPRESSOR OUTPUT PIPE & HIGH PRESSURE PORT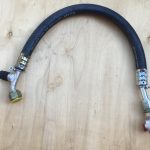 Price £140

These are now no longer available from Jaguar [ their p/n was MHE7340BA ] and are £620+ from AML [ 89.82073 ], so have been specially re-fabricated to original spec. The pipe connects to the back of the compressor and goes up, past the alternator, to the input side of the condensor, on ALL 6 cylinder DB7s.
HUB CAP LOCKING BOLTS FOR i6 DB7 (set of 4)

Price £85

Original locking bolts used a whole set of combinations of 3 pin layout, so giving a fair degree of individuality/security. Current AML stock has 3 pins equidistant, so one key fits all! Another disadvantage is that, being steel, all (past and present) rust, so look unsightly and seize in alloy wheels. The Stainless Steel ones offered here will, keep their finish, not accumulate road dirt and not seize in the threading into the roadwheel.
REAR LIGHTS SURROUND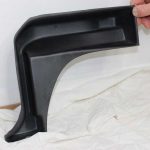 £25

This is an ABS extrusion of the surround for the R/H rear light for ALL DB7s with standard rear lights. The customer would have to cut off excess for their particular car as there are variations through the years! L/H available too. These are far sturdier than the originals.
Please feel free to contact me for other parts.